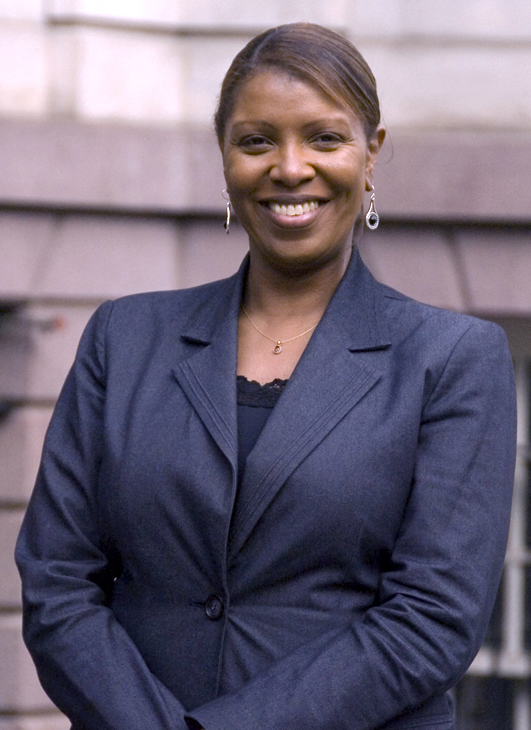 Council Member Letitia "Tish" James was born in Brooklyn, and has remained a Brooklyn resident throughout her life.
As Counsel and Chief of Staff to state assembly members, she saw up close that government could be made to work in the public's interest. In this capacity, James worked on a law that gave grandparents rights in family court, and negotiated a bill that allocated money for reconstruction of the Franklin Avenue Shuttle and Atlantic Terminal Station. She also negotiated legislation pertaining to childcare, health care, and the protection of transit workers. In Albany, she worked with the Black, Puerto Rican and Hispanic Caucus, as well as other progressive Democrats.
During her law career, James served as a public defender for the Legal Aid Society and represented countless young individuals in the criminal justice system. In the administration of former NYS Attorney General Eliot Spitzer, she was appointed the first Assistant Attorney General in Charge of the Brooklyn Regional Office. In that position, she resolved hundreds of consumer complaints and investigated predatory lenders who prey on first-time homebuyers. She assisted the Civil Rights Bureau in their investigation of the NYPD's stop-and-frisk policy and cracked down on firms engaged in deceptive business practices including violations of human rights, environmental laws, and immigration scams.
As a member of the New York City Council, James introduced the Safe Housing Act, which became City law in 2007. This ground-breaking bill ensured that thousands of families in rental buildings receive prompt and full repairs to their apartments. This bill represented a $50 million investment in housing code reform and is a major victory for all New Yorkers living in substandard buildings.
During her tenure as Chair of the Council's Contracts Committee, James' overall goal was to strengthen the power of small businesses to do business and contract with the City. The Contracts Committee held hearings on compliance with and expansion of MWBE programs; the outsourcing of public services to the private sector, especially as it affected both service workers throughout the City of New York, as well as the City costs for potentially unnecessary private labor; the effectiveness of HRA back-to-work programs; and the City's contracts in regards to the procurement of public educational materials. James was considered an early whistleblower of the Office of Payroll Administration's CityTime contract, a payroll system that she criticized as being overly costly and difficult to manage in numerous committee hearings.
Council Member James is well-known for her activity in development issues in Brooklyn. Foremost among these issues is the "Atlantic Yards" project. James has been a long-time and vocal opponent of the development, and participated in numerous organizing and community forums. She supports an alternate plan for development that is more inclusive to the true needs of the community— affordable housing, better food access, and recreational access. Furthermore, she opposed the use of eminent domain to evict residents, as well as the "closed-door" bureaucracy that included selling the property below market value.During this time, James served as co-chair of the Infrastructure Task Force, along with Council Member Garodnick. The task force aimed to address problems associated with the aging infrastructure in New York City. She also chaired the Film Diversity Task Force, comprised of unions, studios, government officials and non-profit groups. This task force aimed to increase minority representation in New York's burgeoning film industry.
Council Member James continues to apply the same fervor to social justice as she has to housing preservation and advocacy, sponsoring a law that addressed the Department of Corrections reporting to the Council violent incidents involving adolescents in 2009. She has been a strong advocate for restoring childcare vouchers, and fought to avoid the closure of childcare centers Citywide.
Council Member James has become a strong proponent of environmental justice and green job development since serving as Chair of the Council's Sanitation Committee. In 2010, James pushed-through a revolutionary recycling package that included expanding plastic recycling, a new clothing and textile recycling program, and improved public space recycling. This legislative package represented the first significant expansion of the City's residential recycling program since it was created in 1989. And in 2011, Council Member James held a record number of Council and borough-focused hearings to address the City's poor response to the December 2010 snow blizzard. As Sanitation Committee chair, she seeks to address the administration's lack of operational transparency and communication through legislative change.
Council Member James currently serves as the co-chair of the Brooklyn Delegation of the New York City Council, along with Council Member Erik Martin-Dilan. Her ongoing interests include housing advocacy, social justice, women's rights, job development, environmental issues, and healthcare access; creating more City contracting opportunities for minority-and-women businesspersons, and investigating administrative stances like "stop-and-frisk" are major goals. In 2011, James led a successful movement to remove a culturally offensive, anti-choice poster that read "The Most Dangerous Place for an African American Is The Womb". The same year, she joined with women's advocacy organizations to hold a press conference in support of a fair trial for Nafissatou Diallo, the Guinean housekeeper who accused former IMF head Dominique Strauss-Kahn of sexual assault. Both campaigns received international media coverage.
Council Member Letitia James can be seen in the Atlantic Yards documentary, "Battle for Brooklyn", and was a contributor to the documentary "The Untold Story of Emmett Louis Till" following her introduction of a City Council resolution to reopen Till's murder case.
James is a graduate of New York City public schools and CUNY's Lehman College in addition to law school. She looks forward to completing her Master's in Public Administration at Columbia University's Graduate School of International and Public Affairs.